Binningen (BL), Oberwilerstrasse 104
- Location and concept: these two blocks of apartments are located along the main access road between Basle and Oberwil. This excellent location is well served by public transport (a bus stop in front of the house), shopping facilities, schools and kindergartens. The buildings, orientated from east to west, have plenty of open green spaces and bright rooms, flooded with light and conservatories.
- Apartments: 2.5 Rooms; 3.5 Room, 4.5 Rooms and 5.5 Rooms.

- Construction standard: top quality construction; handicapped accessible with lift.

- Speciality: though situated directly on the main street with a lot of traffic, the apartments are extremely tranquil and silent, thanks to the orientation and the construction of high noise barriers along the plot.

- Responsibilities:
- Project planning: Arch-Ing Consulting AG
- Development: Arch-Ing Consulting AG
- Sale: Arch-Ing Consulting AG; Top Immobilien AG.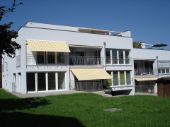 Oberwilerstrasse 104